Your image begins at the doorway. Making a confident and pleasing entrance can influence how you're perceived in those first moments someone reaches your front door. It's why it's important to have a beautiful and inviting floor door entrance. It's an impression you create based on what you see around you. So, laying down a good doormat is not only the best way to protect your floors, it's also an easy way to instantly make your foyer look organized and pulled together.
On top of that, the doormat is your home/business building first line of defense against all the dirt and debris. Stilmat doormats are made according to your needs and requirements of your facility. Created to make a first impression and warm welcome and keep most unwanted dirt and moisture, protecting the rest of the floors and reduce maintenance costs of additional cleaning. Stilmat doormats are: efficient, functional, area adjustable, long-lasting, high-quality, modern, accentuating the entrance.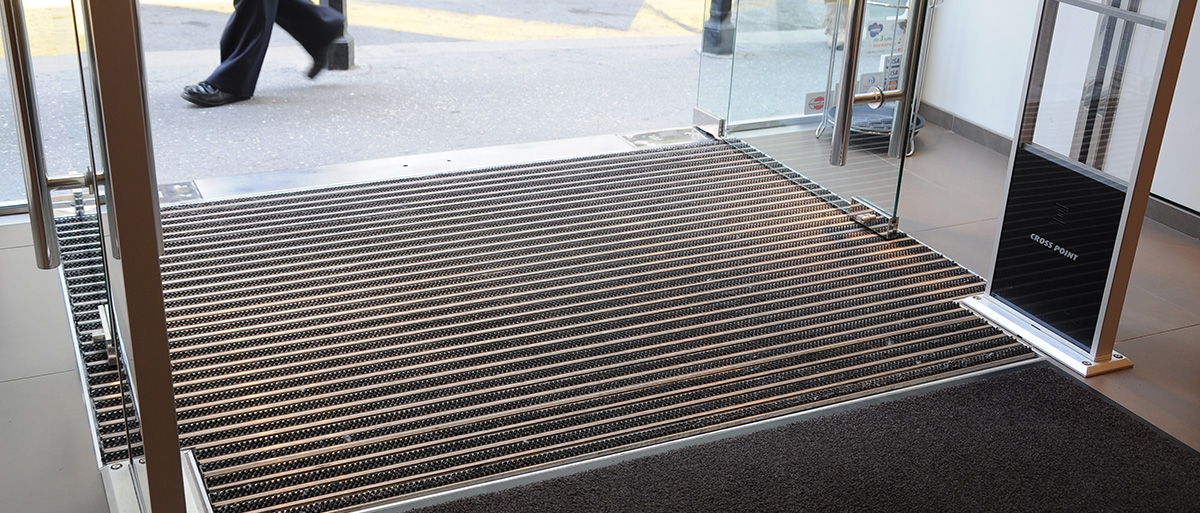 Call
When you need a doormat, just contact us, we will help you choose the right one
Call
When you need a doormat, just contact us, we will help you choose the right one
Order through our website
Quick selection, detailed or comparative
Order through our website
Quick selection, detailed or comparative
Visit us
Visit us or our authorized dealers
Visit us
Visit us or our authorized dealers
Make a presentation
Our dealers will come to you with samples
Make a presentation
Our dealers will come to you with samples
Stilmat entrance matting is designed so that most dirt falls between the gaps onto the mat well base. A regular care and cleaning program is however recommended to improve the cleaning result and increase the life of the mat. Cleaning intervals and equipment used will depend on the nature and degree of soiling.
CLEANING: Roll the doormat, sweep the garbage, vacuum clean, wash the floor, unroll doormat back. The doormat itself should be dry cleaned with vacuum cleaner, periodically wet cleaned using carpet cleaning machines (extractors) and chemical agents non destructive to rubber & aluminum.
CLEANING FREQUENCY: recommended every week or more often, depending on degree of soiling and season (rain & snow).
Height of Stilmat aluminum doormats: 12 mm to 30 mm
Weight 1 m2 : from 14 to 30 kg (depending on profile height and used cleaning insert)
Possible dimensions (on request): max. width: 6 m, max. length: any
Temperature range: from – 25oC to + 70 ºC
Permissible load for pedestrian traffic without limits, traffic of transport and market trolleys, please check our technical data sheet for each model.
Application: inside, covered areas, outside the buildings
Type of connection: Strong and flexible PVC connection strip, the entire width, or galvanised steel cable (stainless) Ø3 mm with rubber spacers.
Metal elements: Rigid fully anodized aluminum (except model Magnat)
Drying insert material: 100% polyamide special dust control carpets, synthetic rubber compound, brush/scrub insert
Underlay/damping material: synthetic rubber sound insulation, or waterproof foam tape (depending from model)
Construction: open, of big soiling capacity, roll up. Or closed, hard-wearing, not roll up,
Installation: in a recess made in the floor in such way that the upper surface of the doormat faces
the floor or the overrunning profile placed on the floor
Certificates & approvals: ISO 9001 and ISO 14001
We will be glad to assist you, otherwise please pay attention to the following. When choosing a specific model of the mat you should consider several parameters:
the purpose of the facility and it's entrance frequency
the height of the mat which is possible to set up, as well as the type of installation – built in or ramped.
The position of the mat – whether it is outside, in a covered entrance or inside, and whether there is one or more mats in a row – considering all of these facts make the right choice of your door mat.
Width of the mat should cover the width of the entrance, a length or direction of walking should be large enough to provide the necessary number of steps on the mat, which ensures optimum cleaning. The right choice of sizes and inlay combinations of your Stilmat mat will ensure its maximum functionality.
When ordering Stilmat mats with built in frame, you should submit the dimensions of the opening.
When ordering Stilmat mats with ramped frame, submit the overall dimension (with frame).
If there is any existing frame, submit only the internal dimensions of this frame.
Stilmat Mats are made extremely accurate, therefore the customer should not make any reduction or enlargement of the dimensions.
Prior to ordering and taking measures, please note the following:
If you submit frame dimensions only when ordering a matting system (frame and mat), we will calculate the sufficient expansion tolerance according to the above table for you. The width of the frame will be added.
Recommendations for appropriate design of Stilmat doormats segmentation with regard to door types and stream of pedestrian traffic.
While designing doormats laying in heavy traffic places, it is necessary to plan its segmentation so that the traffic does not take place on doormat junctions. If it is impossible to manufacture doormats in one piece, e.g. due to big dimensions and weight, or due to complicated form, the design of segmentation should take into account below mentioned general rules. Segmentation of doormat is usually done by installing two or more frames of angle profiles, or one frame of angle profiles is divided by a tee bar. It is recommended to avoid apposing parts of doormats without dividing elements.
Sliding doors – the conjunction should not be in the middle, because heavy traffic is on both sides of the entrance. Basic traffic should not take place on doormats junctions.
Hinged doors – the junction should be located on both sides of the door, as usually heavy traffic takes place in the middle of the entrance. Basic traffic should not take place on doormats junctions.
Please consider the following when planning the installation of a Stilmat matting system:
Optimum fitting: a mat should always be in a frame which is fitted flush with the floor. When ordering, please remember, always state the profile length and the direction of traffic.
When ordering a system consisting of frame with mat or well with mat, please state the outside dimensions of the frame. Existing angle frames: if you already have an angle frame, please state the clear inside dimensions of the frame.
Multi-part mats: for large-size entrance areas, mats with a profile length of more than 300 cm and/or a weight of more than 45-50 kg should be divided, as they will otherwise be too bulky or too heavy for installation and maintenance.
Drainage(optional): when installing the angle frames or wells in outdoor areas, drainage should be provided so that water can drain away (e.g. by making an opening in the screed) or the mat well should be connected to the drainage system.
Laying mats without a frame can be equipped with a Ramped edge so that a well is not required for any subsequent re-laying.
Mats for heavily frequented areas: for entrance areas with heavy traffic (airports, supermarkets, shopping centres etc.) we recommend our extreme models
Custom design or special shapes – you can send us just drawings, or we can make pattern on demand.
Important: roll the template; do not fold it. The upper side of the template and the direction of traffic must be indicated. This information is essential for the production of an accurately dimensioned entrance mat.
Customer service: everything from one source… We offer our customers a flexible and mobile service for measuring and installation. Available upon request at extra charge.
Salt
Snow melting agents
Basic chemical agents which do not contain chlorine
For permissible load of doormats (trolleys, wheelchairs, forklifts, cars…), please check our technical data sheet for each model
Proper functioning of doormat depends on its seating in the flat and even recess. Depth tolerance is around 2 mm. Bumpy floor under the doormat can result in permanent deformation of construction profiles